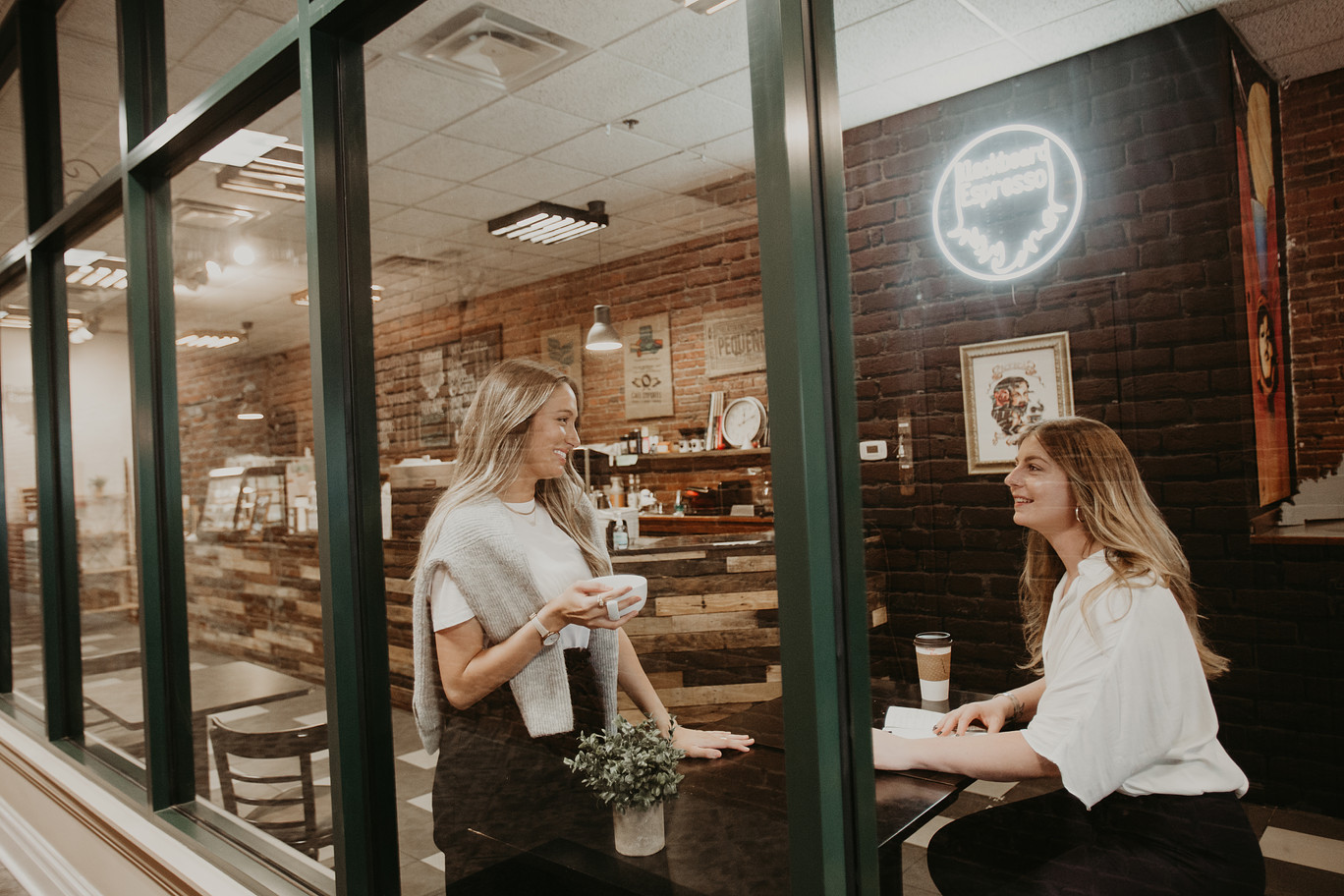 September 29, 2023
At Honeywick, we love a good walk, we love supporting small businesses, and we'd steal your puppy for a good cup of coffee. Just kidding. But we really are that passionate about coffee. That's why we've taken the time to compile some of our favorite orders at our favorite spots around town – which we consider to be the best coffee shops in Louisville!
Let us know your favorite local cuppa brew, we're always up to try something new!
We had to mention Blackbeard first. For many years, this cozy little spot was our go-to shop within walking distance from the office. Now that we've moved a few blocks away, we don't frequent it quite as much, but we still love Blackbeard's consistency, creative drink options, and no-frills setup.
Here are three favorites from our team:
Carly: Almond Milk Latte
"I love my coffee sweet but not too sweet – Blackbeard always gives me just the right amount and the almond milk balances out the flavors to make a really good latte!"
Ryan: Cappuccino with Oat Milk
"Blackbeard's cappuccino is tasty all on its own, but my favorite order is one with oat milk. The bold taste of their espresso with the frothy, creamy oat milk always hits the spot for me, and it really puts the wind back in my sails!"
Samantha: A Classic Americano
"I think it's difficult to perfectly execute something so simple but Blackbeard does just that with their Americano. I think it's one of the best in the city. The classic café drink is consistently nutty, smooth, and strong without being bitter and I credit them to my productivity most days!"
---
Talk about new – Blak Koffee opened its doors in the Russell neighborhood on April 10th, 2023. Founded by entrepreneurs Ronyale Smith and Johnetta Roberts, Blak Koffee is a haven for culture, business, relaxation, socialization, and networking that provides exceptional service, even better coffee, and an environment full of life, laughter, and goodness. They partnered with our website development and branding team to create a unique presence online and in-person, and we've had nothing but quality coffee and a great experience every time we've been there!
Two of our team members went as far as to say some of the best coffee that they've ever had came from Blak Koffee:
Cat: The Black Boy Joy
"The Black Boy Joy is an iced coffee drink that features a healthy dollop of whipped cream and a delightful swirl of coffee and caramel with the perfect ice to coffee ratio, which I find is hard for some people to achieve."
Grace: Iced Caramel Latte
"The strength of the espresso was so complementary to the amount of milk and ice; it was balanced and absolutely delicious."
---
Being a half-step away from Sunergos is not why we moved to our new location on 5th Street, but it certainly could be a reason in itself. Sunergos is one of Louisville's biggest little coffee chains, with four locations and a wholesale roasting business to boot. While we still aren't sure if we can pronounce their name correctly, we do know that their coffee is absolutely wonderful, as is the friendly and thoughtful service they provide.
Here are our teams recs when it comes to Sunergos on 5th:
Maeve: Iced Vanilla Almond Milk Latte
"When I'm not surviving on a steady drip of cold brew, I love Sunergos's iced vanilla almond milk latte. The vanilla tastes real, & not overpoweringly sweet. It's simple but incredible."
Diane: House Dark-Roast Coffee with a Splash of Cream
"When it comes to Sunergos coffee, I don't need any extra bells and whistles. Their dark roast coffee (with a touch of cream) never disappoints!"
Jeff: White Mocha
"I love their White Mocha – it's one of the best I have had and you can tell that they're made with care and quality products."
---
Want to Have Coffee with Honeywick? Drop Us a Line!
If you're interested in meeting the Honeywick team to see just what we can do for you and your business, drop us a line. Whether you're considering a website overhaul, starting a new marketing campaign, or want to discuss a custom software project, we're here for you. For more info, give us a call at 502-873-3866 or fill out a contact form on our website!